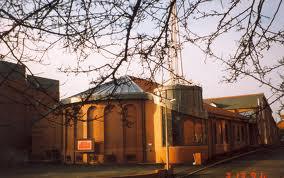 Our Sunday morning services begin at 10:30am in our church building and on live stream. Refreshments, if available, will be served from 10:00am.
Please be aware that we have chosen to leave some of our Covid safety measures in place for your benefit. We would ask for your support with the following:
• Maintain pre & post-service checklists for touchpoint cleaning (revised where necessary / possible).
• Maintain Covid-safe ventilation – windows will be open.
• Continue to encourage everyone to hand sanitise as they enter and move around the building.
• Continue to collect track & trace information.
•       Face masks must be worn whilst entering and leaving the building and when moving around inside.
• Continue to request that people give careful thought to maintaining appropriate social distancing when arriving, moving around inside the building, and leaving.
•       There is an area within the church where you can continue to socially distance yourself and family from others. "Seat not in use" signs will be available so that at least a two seat gap can be set in this area.
•       Continue to use the offerings box instead of passing around the offering bags.
• Continue to serve communion by dropping the bread into people's hands, and holding the trays whilst people remove their own cup.
• Refreshments will be served from 10:00am. Drinks must be collected and taken immediately to your seat.