We are a community of people who love Jesus and who love and care for each other. We express this through pastoral care which includes visiting people, practical help when needed, offering hospitality, and so on.
Life Groups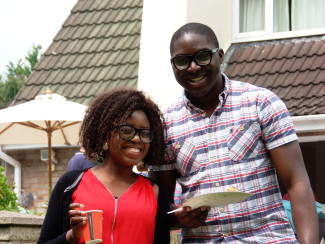 We have a number of Life Groups which meet during the week on various nights. We believe our Life Groups are essential in the life of the Church and encourage everyone to be a part of the one that suits them.
It is important to worship and get to know one another as a whole church but within our Life Groups we can forge closer relationships, support one another, and encourage everyone in their journey with Christ.
We can identify four 'core values' for our Life Groups, conveniently organised by using LIFE as an acronym:-
Living
Inclusive
Flexible
Encouraging
Living
Life Groups are about 'doing life together'. So, the emphasis is on building relationships – with God and each other – rather than on attending a meeting.
Seeking God through prayer and looking at the Bible together will be central to each Life Group. However, groups may approach this in a variety of ways. The important thing is to be helping one another live as disciples and become more like Jesus.
Inclusive
Life Groups need to be open to new people, whether those who are already part of the Church or newcomers.
Ideally, new people will be invited by those already in the Life Group, though this might well be encouraged by someone else – e.g. one of the Ministers.
Everyone can be involved in encouraging others to join the Life Group, not just the Co-ordinator.
Likewise, everyone can take responsibility for keeping in touch so that people feel both involved and supported.