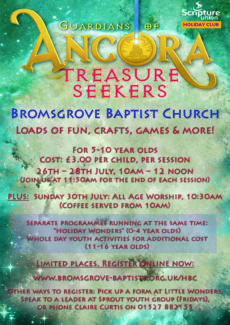 Great News – Holiday Clubs are back again this year and running from 26th – 28th July from 10am – 12 noon.  There are groups for children of all ages. For 0-4 year olds we have Holiday Wonders, for 5 – 10 year olds we have Guardians of Ancora and for children in Year 6 and above we have full day activities planned.
Bromsgrove Baptist Church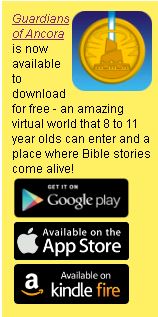 5-10 yrs Holiday Club
Wed 26th July – Fri 28th July, 10am – 12 noon
£3 per session
Are you 5 – 10 years old?
Come and join us for fun, games, songs, and craft activities.
This year the holiday club is based on Guardians of Ancora a world-class tablet game offering an amazing virtual world and an immersive interactive experience of bible stories.  Players go on an exciting journey that will lead them through the virtual world of Ancora, as they explore the stories of the Bible and find out what knowing God for themselves is all about.
You can also download the FREE App on your Smartphone or Tablet too.
To register your child please fill in the form below:
or download the booking form
here
and send to
Claire Curtis c/o Bromsgrove Baptist Church, New Road, Bromsgrove, Worcestershire, B60 2JD